The "computation knowledge engine"
Wolfram Alpha
may still be working out some kinks. But they're apparently working some in, too.
As of last week the massive data compiler didn't know how to parse "penis size", turning their standard "I don't know what you mean" reply into a
hilariously deadpan double entendre
.
Hard Working Data Curators!
Apparently popular demand for this bit of data sp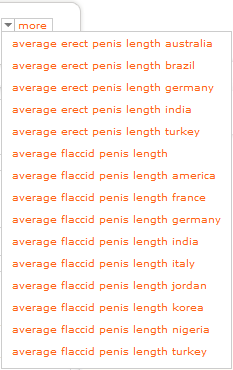 urred their data curators to get on top of things and plug those numbers in, because you can now do a search on
"penis size"
to find average lengths of both erect and flaccid penises, global or broken down by country.
Sizing Yourself Up?
Wolfram is helpful in case you don't have a ruler or tape measure handy. It offers equivalents using a few other common objects as units of measurement: the average penis equals the length of 3 AA batteries, or 1.8 credit cards
.
Wolfram Alpha is still pretty unworldly when it comes to carnal knowledge. The word "sex" just brings up some lexicographic facts. But so much is still uncharted: What's the average duration of intercourse? How many times per month does the average couple have sex? What's the average amount of semen in an ejaculation? All questions that apparently baffle the Wolfram mind. However, we predict that this period of innocence won't last long.
Of course, we had to input Viagra to see what results we'd get. The engine returned some info on sildenafil's chemical properties and drug classification, but no sales figures, estimated users, number of Viagra spam emails sent annually, etc. However, we did learn that Viagra has a melting point of 189 C (about 375 F). That has to be good for something - don't leave your prescription bottle on your car dash this summer - especially if you spend summers on Venus.