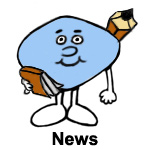 In an effort to perk up sagging sales, Pfizer has debuted a
new packaging format for Viagra
: the single-pill packet. Call it the "Fun Size" version of our favorite pharmaceutical.
The single-dose packets are designed to appeal to guys on the go and those who want to use Viagra while away from home. It will be interesting to see if Pfizer works the spontaneity angle, since its "latency time" after ingestion has been one of its drawbacks, and rival Cialis has pushed nookie at a moment's notice as a selling point in its ad campaigns.
The single-pill packets certainly are more convenient, and it makes sense to have easy to carry, easy to open, more portable and more discreet packaging..
Unlike bulky bottles and those rigid blister packs with their rough edges and pointy corners, the new packaging is flexible and both pocket and wallet-friendly, similar to other single-dose drug packets, like Advil. And, probably not coincidentally, the square, silver foil envelope looks strikingly
like a wrapped condom
.
The new packaging option is already available, so you can expect to see them at local pharmacies as soon as they can be stocked. There is no additional cost for the single-dose packets, and insurers will treat them the same as Viagra packaged in other formats.
The new packaging format seems to be part of a push by Pfizer to revive the Viagra brand and stay competitive with other ED treatments. Last year the company rolled out a refreshed ad campaign featuring attractive female spokespersons ("Guys, let's talk about erectile dysfunction...") and in August, it will make home delivery available through CVS to spare men the embarrassment of collecting their prescription in person.